Our motto is health for all
About Us
Sanjeevani – The nature cure sanatorium established in 1989 by Sri: C R R VARMA popularly known as 'varmaji' . The nature cure sanatorium – SANJEEVANI – is situated at Peramangalam village (Thrissur - Guruvayoor Road), 10KM away from the cultural capital town of Kerala, Thrissur. It is the first co operative venture in the state of Kerala, situated in the area of 5 acres of land functioning under the auspice of Thrissur District Nature Cure Co –Operative Sanatorium.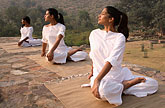 Eco friendly duplex type of cottages are provided for the patients to live in. A portion of land is utilized for growing medicinal plants, fruit plants with the advice of KFRI ( Keral Forest Research Institute ) and the rest for the agricultural purposes. Organic farming is practiced here. The natural type of cottages and the serene atmosphere in the profusely vegetated sanatorium compound creates a conducive environment . Other than giving medical advice to the inmates of the sanatorium, regular study classes, lecture sessions, discussion programmes, free Naturopathic treatment camps etc.. Training is given for meditation and Yoga. A well maintained library and audio library are available in the sanatorium for the individuals to pursue studies in Nturopathy and hygenic living. The sanatorium administered by the dedicated board of directors and staff and qualified doctors are always vigilant to bestow advice and treatment.
The foundation stone was laid by former Hon'ble President of India Sri. K.R. NARAYANAN on 11th February 1989 and it was dedicated to the public by Sri. K. KARUNAKARAN, Hon'ble Chief Minister of Kerala state.
About varmaji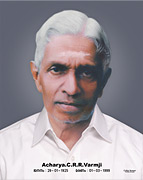 WHEN EVER THE SCIENTIFIC COMMUNITY CAME OUT WITH WRONG CONCLUSION BASED ON HALF BAKED KNOWLEDGE, A MAN OPENLY FOUGHT AGAINST IT AND HIS OPINION WERE PROVED TO BE CORRECT SUBSEQUENTLY AS THEY WERE BASED ON EXPERIENCE AND INTUITION. THE SAID MAN WAS SRI: C.R.R VARMA (Varmaji) ,THE FOUNDER AND MENTOR OF SANJEEVANI.
A silent revolution of sorts is taking place in the field of medical treatment A revolution not in terms of its sweep, but in terms of concept. What is aptly called Nturopathy, the system of treatment is not new as such, but in the fact is that it is slowly gaining prominence among the more enlightened sections of the society.
Tides began turning in favour of Naturopathy in the Kerala after Sri: CRR VARMA, an engineer turned naturopathist, took some initiative to spread its message through a modest personal venture. The system involves no medication. "Eat when you are hungry and drink plain water when you are thirsty" are the two sutras on which the naturopathy superstructure is built up. And all what one has to rely on are fruits and vegetables. Whether it be for asthama, heart diseases or cancer, its proponents say.
According to CRR Varma, many of the diseases can be cured by diet control. He says that during the initial stages of his efforts, not many were willing to be treated in his way. Many people said they were not willing to change their food habits' he says.
'Now, however, people have started to realize the therapeutic aspect of diet control and many chronically ill patients have been cured of their disease which they had feared were incurable', the engineer - turned doctor claims. He says the main reason for all the diseases at present is the change in our food habits. Man, he says, is basically a vegetarian, and fruits and nuts are the food destined for him. Food should be live and wholesome. Cooked food losses its vitality and is difficult to be digested. And , human body requires regular exercise for its healthy functioning. But in the present state we are not able to find time even for simple exercises. Herein lies the importance of Naturopathy.
Sri. VARMAJI says, it was the chance meeting he had with naturopathy specialist Dr.SWAMINATHAN, that proved to be turning point in his life. He learnt Upanishads, principle of nature cure and allied subjects from Dr. Swaminathan. Since the VEDIC period, a large section of people in India were living in tune with the laws of Nature. The laws, principles and theories of this science were scattered in the VEDAS, UPANISHADS and PURANAS. Varmaji's profound knowledge of the scripture along with Acharya : Swaminathan's guidance, he acquired mastery over the subject.
Sri: CRR VARMAJI says large number of patients suffering from asthma, blood pressure, heart diseases and cancer have been cured by the expert advice given by him in the Naturopathic way of treatment. He attended to many patients across the country on regular basis. Besides, hundreds of persons trained by him are also active in this field. They include professors, advocates, company executives, officers from various fields business persons etc..
Varmaji has written many books on naturopathy. He says, fruits and vegetable can do miracles on the human system. by building up a good culture in our consumption of food. We can take good care of our health.